Hey, there everybody! Thanks for stopping by today! Here's the project that I shared last week on the AWDML blog!
Today I have another super easy project that is incredibly versatile and can be used for tons of different occasions! I'm making a notebook for my daughter, but it could be a teacher gift, a mini-album and lots of other things!
First I cut a front and back using my largest die from the
Nestibilities Labels One
set and Kraft cardstock. You could make this with lots of different shapes and dies! Then, I cut 15 pages using white cardstock and the same die. Why 15 pages, you ask? Because that's how many scraps of white cardstock I had! (This is a fantastic job for a kiddo who is "dying" to scrap with you!)
**Note: Check out my Spellbinders Storage system-- an empty CD case and some sticky magnet strip. Pretty genius, eh?
Next, I decorated the cover of my book and cut a hole using my crop-a-dile for the book ring.
Now, I needed to cut a matching hole for each of my pages. Because I was using the crop-a-dile, I could cut several pages at once. So, I lined the pages up carefully and used the hole in the cover as a guide to cut the rest. I did about 3 pages at a time until I'd cut a hole in each. Then, I fed the book ring through the hole.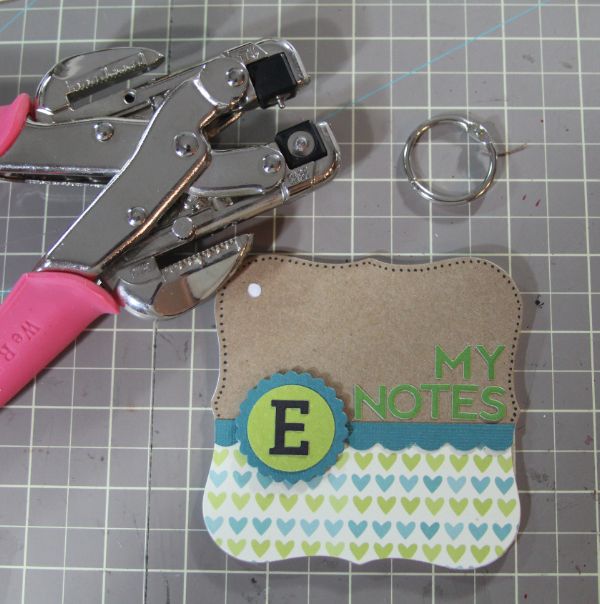 The last step was to create a simple loop for the pen! I cut a piece of ribbon and wrapped it around the pen. Then I secured ith using the tiny attacher so that it was the right size. Then, I trimmed the ribbon and used some super strong adhesive to adhere it to the back of the front cover.
Then, simply slide the pen into place and the project is done!!
I can picture this for SO many uses-- a journal, a coupon book for Mom (free hugs, empty the dishwasher, etc.), a teacher gift, a mini-album, shopping lists... anything!
I hope you enjoyed today's project and are excited to try one for yourself! Thanks so much for stopping by!