Well, I finally created the mini-album that I've had in my head for almost two years. Every year we hang the ornaments on the Christmas tree and I tell the kids about where the most speical ones came from. Some I made when I was a kid, some have hung on the tree since I was a little girl, some were given to us by someone special and some are ones that we got that have special meaning to us. I wanted to make sure that the kids have these stories in their hearts and memories to share with their kids someday, as they hopefully hang these very same ornaments on their tree.
So, what better way to document than with a mini-album?! I used the beautiful
Simple Stories Handmade Holiday
collection to make it, along with some of the stickers from the
Carta Bella Christmas Day
collection. You can find out more about how I made the album using leftover sheets of chipboard on this
AWDML Blogpost
.
Here's the cover of my album:
And, here are a few of the inside pages:
This one is about the bird in a nest that's supposed to bring good luck. It was given to us by my BFF's mom.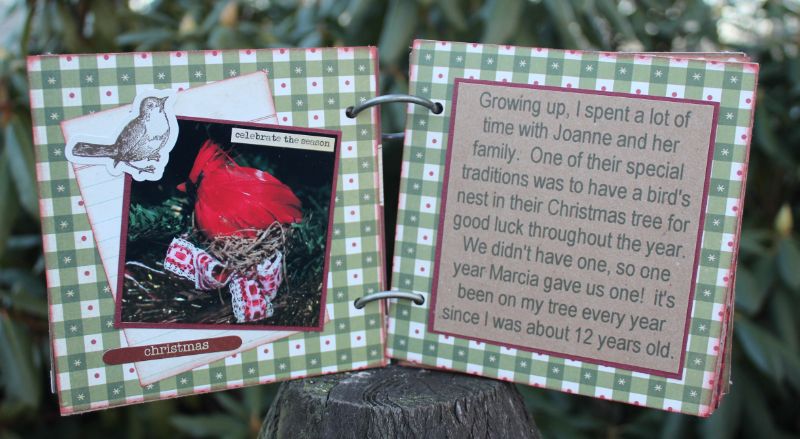 And this one I bought in Chicago at the Art Institute. Shortly after I returned home from that trip, I found out that Miss Elizabeth was on the way!
Sweet Fergus will always be represented on our tree! The photo was taken when he was about a year old and he'll be 16 this spring! And, the little wrestler dude is Chris reliving his glory days as a wrestler at Lenape High School!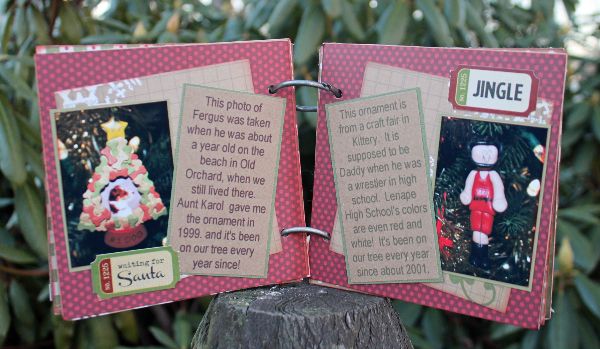 We have quite a few more pages in the album, and lots more photos to add! The kids have already enjoyed the album and shared it with friends who have come over. Elizabeth even said, "Mom, I really didn't know some of these stories- I'm so glad you made this!"
Mission Accomplished.
Thanks so much for stopping by today! Since I've been a slacker on my blog lately, I've got lots more to share! Come back soon!