Hey there, everyone!! I hope everyone is having a fantastic summer! We've been super busy and on the go for the last few weeks, but this week we are slowing things down and trying to enjoy some of the fun things that can only be done in ths summer… like time at the LAKE! We have some tremendous friends who open their home (and their dock) to us every summer to enjoy any time we want to. We are so grateful and enjoy every minute we are there!
Last week, Colby decided to try fishing from the kayak. He was happily fishing in the "weeds" when he yelled, "I GOT ONE!" Of couse, the fish swallowed his lure, so he couldn't get it off to release it and had to tow the fish back to the dock for help. When he pulled up to the dock, I saw that he had a great, big bass on his line! He was all smiles, of course!
I was excited to use the
Echo Park Perfect Summer
collection to scrap these fun photos and this great memory!
One of my favorite things to do while creating my title is to use my Copic Markers to color stickers, chipboard and alphas to match what I'm working on. Here, I used the Jillibean Soup Corrugated Alphas and colored them to perfectly match. Now, I can just get white alphas and then make them match- I never have to worry about not having the right color!
Here's a close-up of the layout where you can see the fun details added with the fabulous stickers included in the Perfect Summer Collection. I love to pop them up with foam tape to add dimension and used the fishies and the sun sticker to create my visual triangle. I also added some fun Washi tape that looks like a ruler to highlight how "big" the fish is!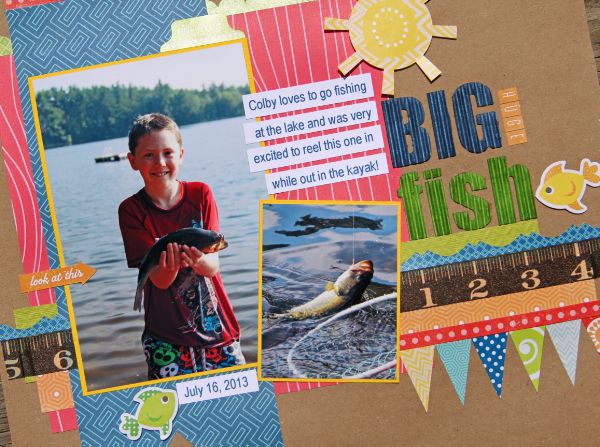 I hope you enjoyed my layout today and that you're inspired to dive right into your scrappy stash! Thanks so much for stopping by!