I'm super excited to share my first
Birds of a Feather Kit Club
reveal with you today! This
August Kit
is so amazing and full of beautiful papers and fun embellishments!
My layout is about my daughter with a photo I took of her at the end of last summer. It's acutally infront of the Target shopping center a few towns over. I was drving by and thought, "Hmm... that rock wall would make a cool backdrop for photos." Then I looked over and saw my camera peeking out of my purse, so I stopped and took pics of my (slightly horrified) kids while cars whizzed by in and out of the shopping center! Hey, you can't pass up a good photo op, right?!?!
Even though the photo session might have been a bit traumatic, she loves the layout that will go in her album, especially the poem that I wrote!
**My Layout is based on a sketch by Lucy Chesna.
See the brown? That's actually not paper that's included in the kit-- it's the packaging for some of the embellishments included in the kit! Don't be afraid to use it all! Check out how it popped the circle where the title is!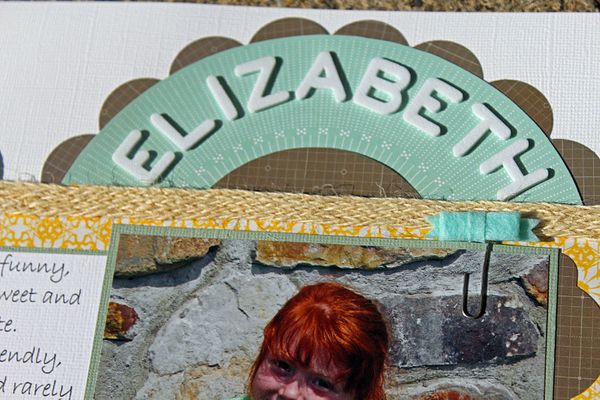 And, I'm loving the little canvas banner pieces! I thought it was perfect to record her age at the time this photo was taken!
And, finally, check out the beautiful flower!! The color matches perfectly and I added some quickly cut cardstock leaves to make a perfect finishing touch for the layout! Don't you just love the giant pearl?!
I also want to share a card with you today! I love the yellow paper that came in the kit and thought it would be perfect for a bright, feminine card. And, the Washi tape and flower are a perfect match! Again, I cut some quick leaves from some of the patterned paper and voila-- a pretty card!
Thanks so much for stopping by the blog today! I hope it gave you some ideas on how to use the fabulous
August Kit
!